Welcome to SprayTech Coatings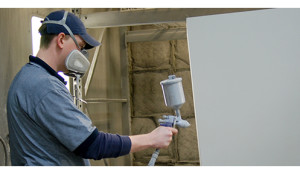 Spraytech is your one-stop shop for all coating solutions in Buffalo, NY. We specialize in electrostatic painting & refinishing of metal goods. Items typically refinished include office furniture, school lockers, metal entrance doors, awnings, refrigerators and metal fencing. Electrostatic painting creates no over-spray. Spraytech also offers commercial painting, sandblasting, powder coating and dip stripping. We can refinish any metal item on site.
We have been serving the refinishing needs of local and non-local companies and schools in Buffalo for over fifteen years. Our many years of experience have allowed us to gain much knowledge in the field of electrostatic refinishing. We have learned the best possible methods of refinishing for each customer's specific needs. We use the best products available for the many different refinishing scenarios we encounter. We deal with customers, both existing and potential, in a straightforward and honest manner. Give us a call today and find out how we can serve you!
Electrostatic refinishing is a process by which a positive charge is attached to paint, and a negative charge attached to the item being painted. The result is an attraction between these two opposite charges, which forces the paint to flow from the spray gun directly to the item being painted. What this means, is NO OVERSPRAY. No overspray allows Spraytech to refinish items in areas were other painters cannot.
Whether you are in need of metal painting, office furniture refinishing, or commercial equipment painting, Spraytech Coatings is here to help. Our services have helped countless business owners throughout Buffalo, NY and the surrounding areas improve their look. Our services are completed by trained technicians who will work with you every step of the way to ensure your 100% satisfaction.  Please call 823-1122 today with any questions.